Views from a Seine River Cruise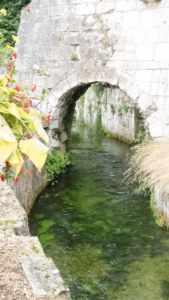 As a travel advisor, I believe it's important to stay on top of the latest travel trends and even conduct my own market research from time to time. (Okay, most of you would call this going on vacation—job perks!) Last month I had the opportunity to cruise the Seine River in Paris, and wow, was it breathtaking. If seeing the city of Paris by boat is on your bucket list, this is the way to do it.
One of the best things about this particular river cruise was visiting many small villages, like Caudebec en Caux, for example. These charming villages are not typical destinations for tourists visiting France, which makes the experience all the more special. The quaint destinations have the ability to make you feel like you've stepped hundreds of years back in time. For me, this was quite the treat. I've always loved history, and, like many others I'm sure, have wished I could experience life in other countries throughout various times in history.
And the baguettes! Oh, the baguettes! There's a boulangerie (French for bakery) on almost every corner with fresh bread and pastries daily. This could have been dangerous if it weren't for all of the walking we did!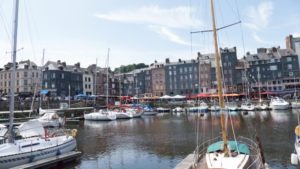 While we were docked at Caudebec en Caux, we took a short bus ride to Honfleur, a beautiful, ancient port city located where the Seine flows into the English Channel.  As we walked through the city, bars were overflowing with people cheering on their football team as the French played against Ireland in Euro 2016. You didn't even need to be near a television to know when the French team scored—the excitement was contagious (though I was more excited by the crepes and outdoor cafes)!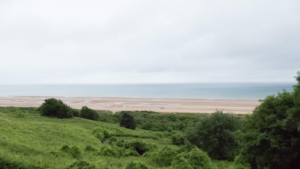 Caudebec en Caux is also relatively close to the Normandy Beaches where I learned a lot about D-Day. Over 9,000 American soldiers are buried at the US cemetery there, alongside cemeteries for the British and Canadians that fought and died during the 76-day Battle of Normandy. The cemetery held a small memorial service while we were there, and one of the men on our cruise was actually a veteran of World War II. He and another veteran were asked to carry the wreath during the service. It was an emotional day for all of us.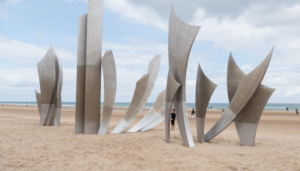 This monument, known as Statue les Braves, is located on Omaha Beach, one of five D-Day landing beaches.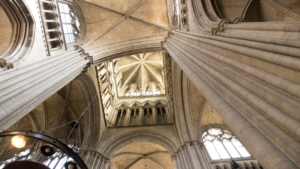 As anyone who has been to Europe knows, everywhere you go, you will find many beautiful old churches. This Gothic cathedral is located in the city of Rouen, which is the ancient capital of the Duchy of Normandy. It was in Rouen that Joan of Arc was held prisoner and sentenced to be burned at the stake in May 1431.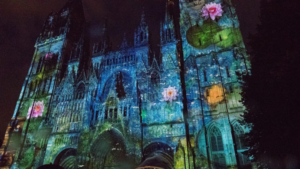 At the same cathedral, we saw a truly amazing light show that portrayed everything from people scaling the walls to fire-breathing dragons.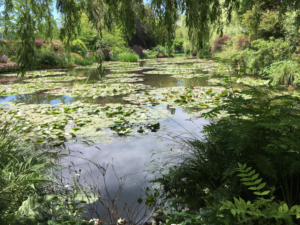 And then there was Giverny—where Monet had his house and gardens.  Seeing Monet's inspiration at the very place where he painted several of his most paintings—including his Water Lilies series—was an enlightening experience.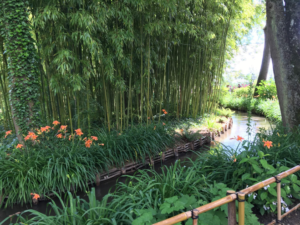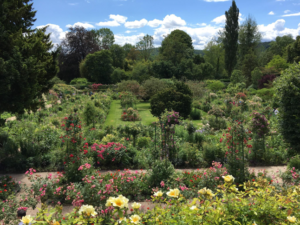 Needless to say, I would recommend a Seine cruise to anyone. From the rich history to the breathtaking scenery, it's an adventure from beginning to end.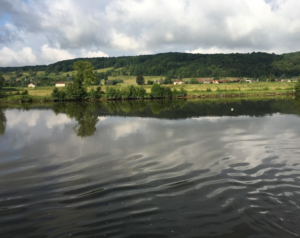 If only I could wake up every morning, open my sliding door, and watch the French countryside pass by. Until next time, Paris.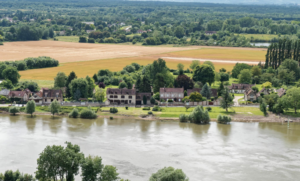 Ready to go on your own adventure like this one? Let's start planning! Text or call 314-341-7146, or email [email protected] today.