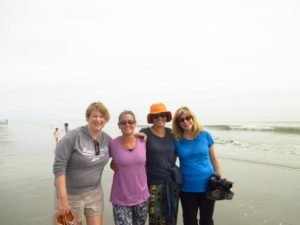 There's something to be said for the power of a few special days spent with your closest gal pals. Non-stop laughs and heart-to-hearts with the ladies that know you best can be rejuvenating. Whether it's the friends you made in college or the ones you've known since birth, they've seen you at your best and your worst—and with them, you feel like your most authentic self. No matter our stage in life, we all need an escape into that warm familiarity.
But while a girlfriend getaway sounds ideal, getting there is not always so easy. Between jam-packed schedules and busy families, life tends to get in the way. To make getting your best gals to the final destination a little easier, I've broken down a few musts in the planning process.
Step 1: Establish a point-person
The first steps in planning a girl's trip can sometimes be the hardest. Between making sure everyone's schedules align and securing a date and budget, it all can be daunting. To start your unforgettable getaway off on the right foot, establish a point-person before the planning even begins. This will help ensure that none of the foundational elements of the trip are overlooked. The person in this position can rotate within the group for each new trip, but make sure that one person spearheads all communication so everyone knows who to go to with questions and suggestions.
Step 2: Have a pre-planning gathering
I know what you're thinking—it's hard enough to get everyone together for a trip, much less just to talk about the trip. However, this is an integral part to the planning process. The point-person established in step one should be in charge of making sure everyone attending the trip is on the same page. This might be in-person, via Skype, or even just in a group text conversation; the important part is that every person is involved and gives input. The meeting should be used to secure a date, establish a group budget, and determine what types of activities each person wants to do on the trip. If possible, this step should take place at least nine months in advance, that way schedules aren't set yet, and getting a final departure date etched in stone is a little more feasible.
Step 3: Enlist help
Once the foundation is set, it's time to get planning. Time and time again I see clients who first tried to research and compare amenities on their own, only to realize that in the world of travel, it's all about connections. Travel agents are an ideal way to plan a complicated trip because they have the resources and experience to make it both extraordinary and affordable. For example, I'm not only a travel agent—I'm also an avid traveler myself. I have been in most every travel-planning situation that may arise, and if I haven't, I can tap into my extensive network of worldwide contacts. Whether you want to drop off a list with the dates and "must-haves" and let your agent take it from there, or you want to have weekly meetings over coffee, a good agent will provide a personal and customized approach that ensures your getaway is everything you hoped for.
Step 4: Choose a destination
Once you've set a budget and established the type of trip your group desires, the fun part begins. From a wine trip in Sonoma, to art viewing in Florence, to club-hopping in Miami Beach, there's a kind of trip for everyone. But for those that want everything in one, I've fallen in love with a resort that has it all. Miraval Resort & Spa in Tuscon, Arizona is a luxury getaway dedicated to helping you find balance, not only with your vacation, but also within yourself. From their award-winning spa and yoga classes, to their equine activities and hiking excursions, Miraval has a little bit for everyone. Removing the hassle of international travel, this resort in the foothills of the Santa Catalina Mountains offers all the amenities, in a gorgeous location without having to travel too far.
Step 5: Post-trip debrief
After all your hard work pays off and you've returned home from an immaculately planned and unforgettable girls' trip, it's time to regroup. Meet up and talk over what went well, and what things need to be changed for next time. After all, a gals' getaway shouldn't be just a one-time thing. Your next adventure can be right around the corner and even better than the last. I'd also recommend creating a group Dropbox or Google Drive folder so everyone can upload and share photos from your trip. Or better yet, put together a group scrapbook that you can all look back on each time you get together for years to come.
No matter where you are in life—running after toddlers, soaking up the single life, approaching retirement, or just getting started—every woman deserves a getaway. So why not spend that little time off with the ladies that have been with you through it all. Give into that hankering for adventure, grab your girls, and start making some new memories.